Novegen, which is based in Sandyford, Co. Dublin, is a telecom and datacom solutions company providing product service to the telecom industry such as simplifying the process for the installation of fibre optics in both the domestic and international market. It was one of five SMEs awarded 'Exemplar' status by InterTradeIreland at an event held in Carton House, Maynooth. These small enterprises reported combined sales of over £1.5M for the duration of the FUSION project and have projected £5.75M in sales over the next three years. The companies also achieved savings of £65,000 during the FUSION projects and over the course of the next three years savings are projected at £466,000. The companies; Tyrone Fabrications, Copper Industries, Complete Laboratory Solutions and Aspira were nominated as companies that had successfully embraced innovation to drive their businesses forward with considerable results.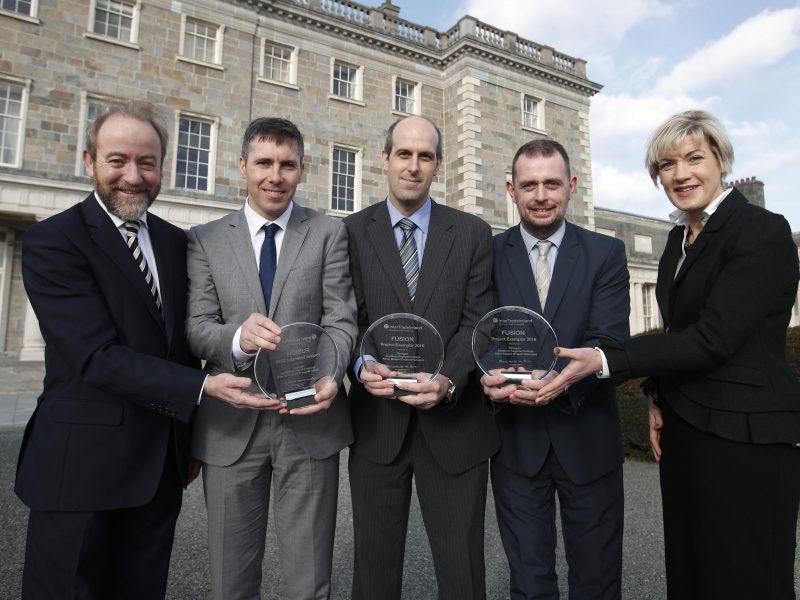 InterTradeIreland's FUSION programme, partners companies north and south with a third-level institution providing them with the specialist expertise of a high calibre graduate for a period of 12 – 18 months who works directly in the organisation to deliver a new product or process improvement project. Through the programme, Novegen has benefitted from the services of Southern Regional College and graduate, Aiden Magee. The partnership has enabled the company to develop Socru, a software application for designing and documenting fibre optic networks.
FUSION graduate, Aidan Magee assisted Novegen with developing the Socru product and was mentored by academic Daniel Bled from the School of Creative Design and Computing at Southern Regional College (SRC) in Armagh. Aidan has been kept on by Novegen as Senior Design Engineer, where he will oversee ongoing future projects and developments in this particular field.
Discussing the benefits of the FUSION programme, Emmanuel Kennedy, Director at Novegen said "The FUSION programme has enabled Novegen to develop a proprietary software system to support the provision of our fibre optic services. Without the assistance of InterTradeIreland Novegen would not have had the time or resources to dedicate a full time member of staff to R&D and successfully bring this project to market. In reality the assistance from FUSION has helped us expedite the whole process as it would have taken significantly longer to achieve in-house."
Speaking at the event Margaret Hearty, Director of Programmes and Services for InterTradeIreland said: "These ambitious SMEs are a testament of what can be achieved through enterprise and innovation and North South collaboration. It is important that we recognise their success which we hope in turn will encourage other SMEs to participate in the FUSION Programme, to improve their productivity, increase their revenue potential and to create real jobs for graduates. I am delighted to congratulate Novegen on their achievements and I wish them every success in the future."
For further information on InterTradeIreland and the business supports available please visit www.intertradeireland.com